With a distinct design, a sleek floating roof, and a lightweight body made from 85% recyclable materials, there's a lot for Ventura, Camarillo, and Oxnard area drivers to love about the 2018 Range Rover.
The team at Land Rover Ventura was excited to tell our customers about this SUV, so we included some of our favorite features in this 2018 Range Rover car review.
Range Rover Engine Specs
The 2018 Range Rover lets drivers choose between five different engines that prioritize efficiency and lowering CO2 emissions, without sacrificing power.
The way they do this is by utilizing regenerative charging and start/stop technologies. Regenerative charging repurposes kinetic braking energy into fuel for the battery, while the start/stop feature shuts off your engine during extended stops at lights or in traffic to curb emissions and safe energy. It then fires the engine up again when you hit the accelerator.
Both features make for ideal additions to traffic-heavy Southern California driving where stop-and-go traffic can be common.
The available engines come in four gas options and one diesel option. The gas engines are as follows:
3.0L V6 Supercharged engine: This engine comes in two versions. On generates 340 horsepower and 332 lb-ft of torque. The other generates 380 horsepower and 339 lb-ft of torque.
5.0L V8 Supercharged engine: This engine also comes in two versions and produces 518 horsepower and 461 lb-ft of torque or 557 horsepower and 516 lb-ft of torque.
The diesel option is a 3.0L V6 turbocharged engine that generates 254 horsepower and 443 lb-ft of torque.
2018 Range Rover Towing Capabilities
The 2018 Range Rover holds nothing back when it comes to towing, maxing out at 7,176 pounds. That's more than enough strength for a horse and trailer or a pontoon boat.
When you're carrying that much weight behind you, you want to have as much control as possible, which you'll have with the Trailer Stability Assist feature that monitors your trailer's sway. If it detects any trailer instability, it automatically adjusts your engine power to reduce speed and keep the trailer in-line.
Once you reach your destination, docking your trailer is simple with the available Advanced Tow Assist feature that lets you direct your trailer using a rotary controller. The system will help to adjust your vehicle's steering to achieve your preferred trailer trajectory.
When you park, hit a switch or use your key fob to activate Rear Height Adjust and lower the rear suspension by up to 1.9 inches and easily unhitch or unload.
Cargo Area
When you're on the road in your Range Rover, you'll have plenty of space for all the essentials and then some. With the rear seat down, you can access up to 75.6 cubic feet of total cargo space.
With the seats up, you can seat up-to five comfortably, while still having ample trunk space. However, if you do need to put the rear seats down, available Convenience Fold lets you configure your seating as necessary using the touch screen or smartphone app.
After loading up for a long car trip, sit back and enjoy the ride as you activate the available Hot Stone Massage Seats and choose from 25 different massage programs.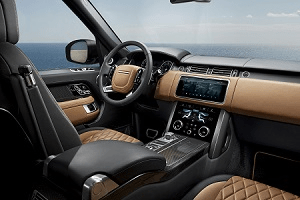 Test Drive the 2018 Range Rover
If you want to explore the 2018 Range Rover or discuss our car review in person, come see us at Land Rover Ventura. We can even get you behind the wheel and out for a drive around the Ventura, Camarillo, and Oxnard areas, schedule your test drive today!